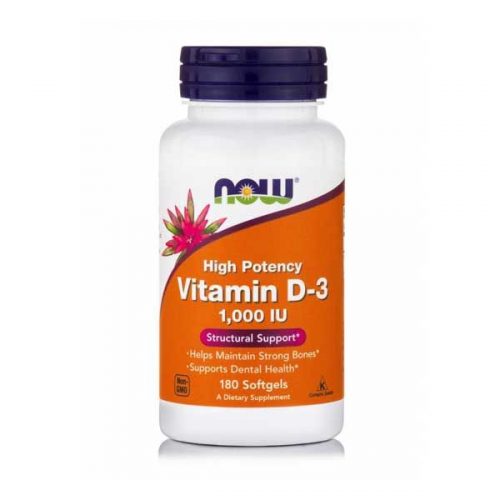 6 in stock
Now Vitamin D-3 1000 IU 180 Softgels
€ 14.18
Now Vitamin D-3 1,000 IU dietary supplement contains vitamin D in the active form of cholecalciferol. Vitamin D3 or cholecalciferol is a form similar to that produced in the body by sun exposure, and is, therefore, more absorbable.
Vitamin D contributes to the normal absorption / utilization of calcium and phosphorus, to normal levels of calcium in the blood, to the maintenance of normal bones, to the maintenance of normal muscle function, to the maintenance of normal teeth, to the normal functioning of the immune system, and has a role in the process of cell division. *
Vitamin D also helps reduce the risk of falls associated with body instability and muscle weakness. Falls are a risk factor for bone fractures among men and women aged 60 and over.
Supplement Facts
Serving Size: 1 softgel
Servings per Container: 180
| | | |
| --- | --- | --- |
| Vitamin D-3 (Cholecalciferol) from lanolin | 1000 IU | 250 |
* % Daily Value
Other ingredients
Contains gelatin, glycerin, water and olive oil.
Dietary supplements should not be used as a substitute for a balanced diet. This product is not intended for the prevention, treatment or cure of a human disease. Consult your doctor if you are pregnant, breast-feeding, undergoing medication or experiencing health problems.